Yep, just like I am a paper planner girl, I also enjoy having a paper address book.
Granted, it more or less only gets used to send birthday and Christmas cards, but its still nice to have around.
I've even started putting cell phone numbers in there as well.
What would you do if your cell phone crapped out one day?
Would you be able to contact anyone???
So, like I talked about in an earlier post, I transitioned to an Erin Condren planner for 2013. And while there are pages for Addresses and Important Numbers, I wanted to have something that I could keep with me from year to year and that could grow if the need arose.
Thus, necessity met craftiness and here you have it!
For this project you'll need:
5 1/2" x 8 1/2" binder - similar to this
Address inserts
(I wasn't able to find the ones I have online. I bought them at my local Meijer about 2 years ago.)

Business Card Holder

Scrapbook paper
(I used The Paper Studio - Pink/Green Dots on Brown from Hobby Lobby)

Trimmer

Label Maker
Start with your preferred address inserts, which can be found in the stationery section.
I love these inserts for a pretty odd and very specific reason:
No writing on the page with the letter tabs.
See, told you it was odd. Can't help it.
People move,addresses change and it messes me all up if there's white-out on the tabbed page.
The business card holders are totally optional, but I have found them to come in quite handy.
I use these for business cards as well as store loyalty and gift cards.
Next, just put whatever paper you what in the outside pouches, add a label bam! You're done!
And just to make sure I know what this is at a glance, I also put a label on the spine!
And there you have it. Easy peezy, rice and cheesy!
Do you have an address book? Have you ever had a craft come from a need?
I'm linking up the A Diamond in the Stuff's Time to Shine party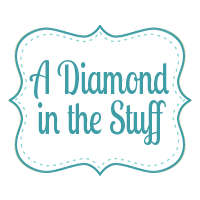 &
That DIY Party from DIY & Show Off